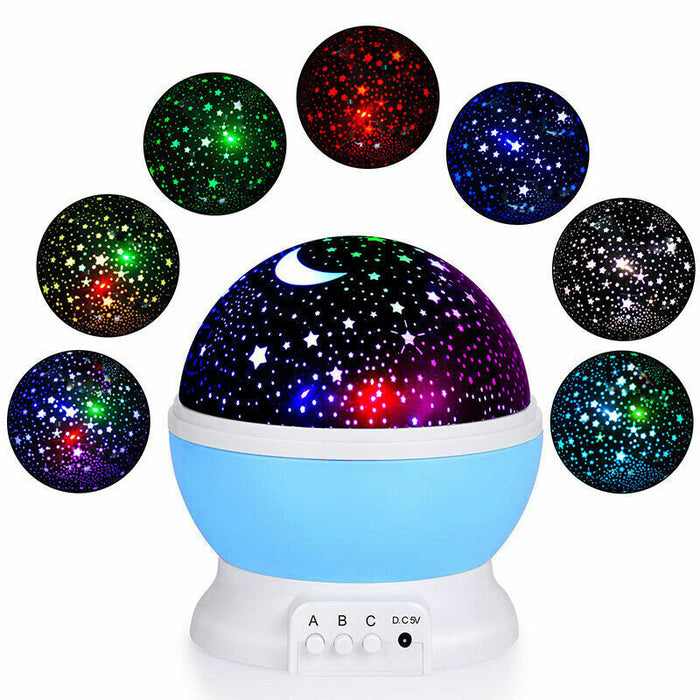 Starry Night Sky Projector
Original price
$49.95
-
Original price
$49.95
Buy now to receive in 3-8 business days
30 Day Money Back Guarantee
Availability:
In Stock! Usually ships within 24 hours.
Availability:
In Stock! Usually ships within 24 hours.
Availability:
In Stock! Usually ships within 24 hours.
ORDER TODAY & GET FREE SHIPPING!
100% NO-RISK MONEY-BACK GUARANTEE


Looking for the ultimate galaxy projector to transport your child into the wonders of the night sky? Look no further than our Starry Night Sky Projector, designed to create a soothing sleep environment for your little ones.
Our galactic projectors are specifically designed to spark children's curiosity about the universe, making learning an exciting adventure.
Key Features:
Simplicity at Its Best - Our bedroom lights come with three easy-to-use buttons that control all functions. Button A activates the hard light mode, Button B allows for light color conversion, and Button C enables rotation. For an immersive experience, simply open the top cover and project the captivating images onto the wall.
7 Colors Mode & 360 Degree Rotation - Transform your child's room with a mesmerizing display of 4 LED light colors and the ability to project 7 enchanting hues. Mix and match different colors to create captivating combinations. The star projector rotates a full 360 degrees, providing an immersive and dynamic view of the starry sky.
Versatile Functionality - This night light not only projects a stunning starry sky but also serves as a comforting bedside lamp. It helps alleviate children's fear of the dark and lulls them into a restful sleep. Furthermore, it serves as a charming decoration for rooms and adds an enchanting touch to birthday parties. As an added convenience, it can be used by mothers during nighttime activities such as feeding or changing diapers.
The Perfect Gift - Crafted with children's enjoyment in mind, our star light projector brings them closer to the magical allure of the starry sky, allowing them to marvel at the beauty of stars and moons from the comfort of home. It makes for an ideal gift for various occasions, including Christmas, Halloween, and party decorations.
Experience the wonders of the cosmos with our Starry Night Sky Projector and create a dreamy atmosphere that your child will cherish.
Specification:
Shape: Star + Snow
Body Material: ABS
Power Generation: Switch
Battery Type: AAA
Charging: USB
Mode: Night light, Projector light, Color change light
Bottom Color: Pink, Blue
Wattage: 0-5W
Button A: Warm White Light Controller
Button B: Color Change Controller
Button C: Spin Controller
Power by AAA battery (Not Included because of customs policy) or USB cable
Product Size: 13cm x 13cm x 14.5cm/5.11 x 5.11 x 5.71inch
Package Include:
1 x Night Light Projector
2 x Image(Star + Snow)
1 x USB Cable
SHIPPING INFORMATION

How do I track my order?
You will receive an order confirmation immediately after your purchase, then we will send you a tracking number for your order. You can also reach out to our customer support at support@jstonewell.com for any questions you may have.

How long does it take for the order to arrive?
Once shipped, your order should arrive within 3 to 8 days. We will send you an email confirmation as soon as your order ships to keep you updated. Feel free to email us to check on your order status at any time. We're happy to help
OUR GUARANTEE

If for any reason you are dissatisfied with your purchase, we'll make it right. We believe that our customers deserve the absolute best value without sacrificing superior quality, and your satisfaction is our #1 priority.

If it doesn't work for you or you just don't like, return it. Within 30 days of receipt, products purchased from JStonewell may be returned for any reason.