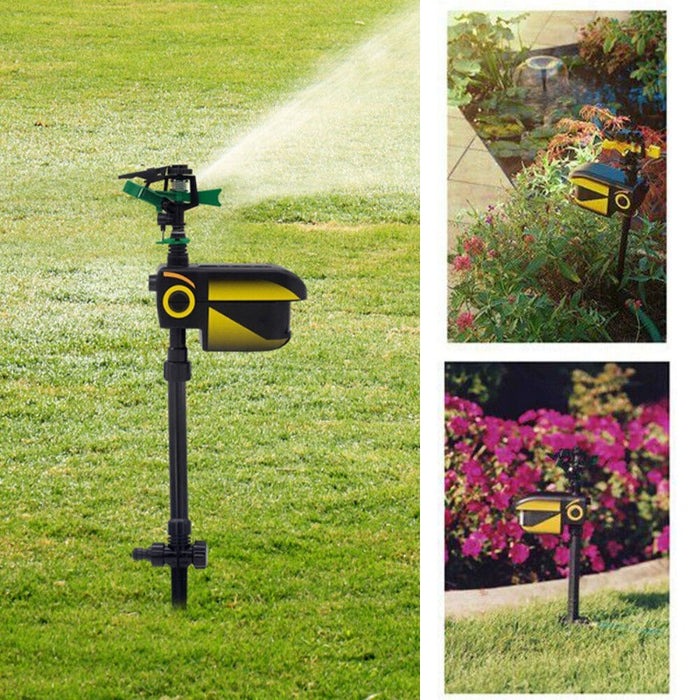 Solar Animal Repellent Water Sprayer
Original price
$78.95
-
Original price
$78.95
Buy now to receive in 3-8 business days
30 Day Money Back Guarantee
Availability:
In Stock! Usually ships within 24 hours.
ORDER TODAY & GET FREE SHIPPING!
100% NO-RISK MONEY-BACK GUARANTEE


Are you fed up with pests ruining your beautiful flowers and vegetables? Look no further than our animal repellent water sprayer!
Featuring a cutting-edge infrared sensor with a wide 120° detection angle, it can identify animal heat and movement up to 32.8 feet away. This triggers the device to spray a gentle burst of water, deterring the critters without causing harm. Plus, the integrated solar panel harnesses sunlight to power the unit, making it both cost-effective and environmentally friendly.

Premium Quality and Brand New: Our product is crafted from high-quality ABS material, boasting excellent weather resistance, exceptional strength, and remarkable durability.

Extensive Coverage: Our product provides comprehensive protection day and night, covering an area of up to 30 feet (1000 square feet), safeguarding your garden, yard, orchard, and more.

Motion-Activated Technology: This animal repellent employs an infrared sensor with a 120° detection angle, capable of sensing animal heat and movement within 32.8 feet, instantly triggering the device to repel invaders.

Customizable Settings: With three automatic spraying times (10/20/30 minutes) and three operating modes (Day, Night, and All Day), you can efficiently prevent water wastage, save valuable time, and enjoy flexible and convenient control.

Versatile Sprinkler Function: Transform it into a sprinkler to water your lawn or garden by simply turning the knob, enabling continuous spray for 30 minutes.

Safe and Effective: This animal repellent sprays water to deter animals, ensuring the safety of your property in a humane and effective manner.

Economical and Environmentally Friendly: Equipped with a solar panel that harnesses light energy and rechargeable batteries, this animal repellent is both cost-effective and eco-conscious.

User-Friendly Operation: Designed with two rotary knobs and clear markings, adjusting automatic spraying time, working duration, and sensing distance is a breeze.

Effortless Assembly: Thanks to its simple structure, comprehensive accessories, and English manual for reference, assembling and disassembling this animal repellent is quick and hassle-free.

Portable and Space-Saving: Weighing only 0.66kg (1.45 lbs), it's lightweight and easy to carry. Plus, you can disassemble it for convenient storage in your warehouse when not in use.

Product Details
Threaded Spout: Prevents slippage and ensures durability for worry-free use.

Ground Plug: Features a flat rounded tip for effortless insertion into various soil types.

Foot Pedal: Equipped with a foot pedal for added leverage, making it easy to insert the machine into the soil.

Quick Interface: Facilitates a fast and secure connection to water hoses, ensuring a tight seal with its threaded ring.

Applications
This product is ideal for protecting gardens, orchards, landscaped areas, lawns, vegetable fields, and yards from animal intruders such as birds, cats, deer, dogs, rabbits, raccoons, and squirrels.
Specifications
Color: Black
Material: Abs
Style: Solar, Automatic
Feature: Waterproof
Function: Spray Water, Repel Animals
Batteries Included: Yes
Battery Type: Aaa Ni-mh 1.2v 800mah
Number of Batteries: 4
Liquid Media: Tap Water
Working Time Modes: Day, Night, All Day
Time Function: 10/20/30mins
Work Pressure: 3-8 bar
Applicable Temperature: 0-40℃/32-104℉
Max. Protecting Range: 9m/30ft, 93m²/1000ft²
Product Size (L*W*H): 18.8*7.8*64cm/7.4*3.1*25.2inch
Gross Weight: 0.66kg/1.45lbs

Package Included
1 x Stake Top
1 x Stake Bottom
1 x Sprinkler
1 x Sensor
1 x Flow-through Cap
1 x Quick Connect Coupling
1 x Optional Sticker Sheet
1 x English Manual

Notes

If the temporary water outlet mode is selected, remember to reconfigure it after use; otherwise, the system defaults to off.
Avoid pressing down on the sensor housing or sprinkler head.
To minimize water wastage, perform a test before adjusting the automatic spraying time and working duration.
Carefully read and thoroughly understand the English manual and heed the cautionary reminders included before using the product.
Please allow for slight color variations due to lighting during photography and a 1-3 cm measurement error due to manual measurement. Ensure you are comfortable with these factors before placing an order.
If the sprinkler fails to shut off, please follow these steps:
1. Connect the hose.
2. Turn on the sprinklers.
3. Ensure water access.
4. Wave your hand in front of the sensor.
SHIPPING INFORMATION

How do I track my order?
You will receive an order confirmation immediately after your purchase, then we will send you a tracking number for your order. You can also reach out to our customer support at support@jstonewell.com for any questions you may have.

How long does it take for the order to arrive?
Once shipped, your order should arrive within 3 to 8 days. We will send you an email confirmation as soon as your order ships to keep you updated. Feel free to email us to check on your order status at any time. We're happy to help
OUR GUARANTEE

If for any reason you are dissatisfied with your purchase, we'll make it right. We believe that our customers deserve the absolute best value without sacrificing superior quality, and your satisfaction is our #1 priority.

If it doesn't work for you or you just don't like, return it. Within 30 days of receipt, products purchased from JStonewell may be returned for any reason.