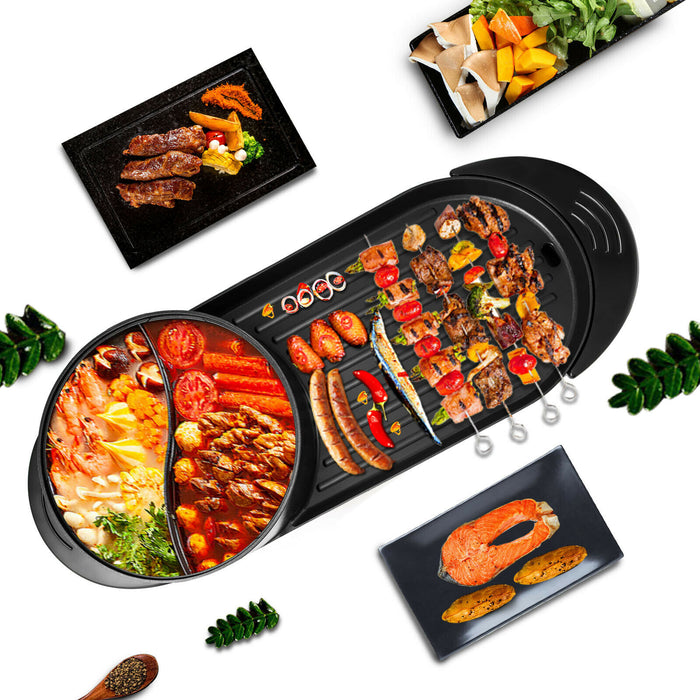 Smokeless Indoor Grill
Original price
$79.99
-
Original price
$79.99
Buy now to receive in 3-8 business days
30 Day Money Back Guarantee
Availability:
In Stock! Usually ships within 24 hours.
ORDER TODAY & GET FREE SHIPPING!
100% NO-RISK MONEY-BACK GUARANTEE


Introducing our versatile 2 in 1 Hot Pot & Grill:. Experience the ultimate combination of hotpot and grill with our electric BBQ grill hot pot. Now you can indulge in the goodness of hotpot and barbecue simultaneously. With its unique divider, you can even savor two different flavors of food in one pot. This multipurpose appliance is perfect for heating and grilling soups, steaks, vegetables, and shellfish, offering you double the enjoyment.

Crafted with Excellence: Our barbecue grill hotpot is constructed using thickened aluminum alloy with a non-stick coating, ensuring superior heat resistance and effortless cleaning. Unlike traditional options, this machine emits less smoke, while the stainless steel bottom provides excellent heat dissipation. The well-designed tempered glass lid traps steam effectively, reducing the risk of accidents. Plus, the bakelite handles keep your hands safe from scalds.

Dual Thermostat for Ultimate Control: Equipped with separate temperature control, our hotpot and grill feature a 1000W heating tube for the hot pot and a 1200W tube for the grill. The two adjustable knobs offer five different speed settings, allowing you to choose between gentle, even heating or rapid, fast heating. Our machine includes over-heating protection, automatically shutting off at 428℉ and turning back on when it reaches 320℉.

Generous Capacity: With dimensions of 26.4 x 11 x 6.7 inches, our electric hot pot and grill offer ample space to accommodate a variety of foods, making it perfect for gatherings of 2-8 people. Now you can host memorable dinner parties with your friends and family indoors, without the hassle of waiting in line or the extra costs associated with dining out. Embrace the authentic flavors of your favorite ingredients from the comfort of your own home.

Innovative Design: Our 2 in 1 grill hot pot features an oil leakage outlet that effectively filters out excess oil during grilling, reducing smoke production and enhancing your cooking experience. Enjoy the convenience and versatility of our thoughtfully designed appliance.

Experience the best of both worlds with our 2 in 1 Hot Pot & Grill. Embrace the joy of hotpot and barbecue combined, while relishing the ease of use, durability, and exceptional features of our multifunctional electric grill hotpot. Elevate your culinary adventures and create unforgettable moments with friends and family.

Specifications:
Material: Aluminum + Stainless Steel + Tempered Glass
Speed: 5 Speeds
Power: 2200W
Temperature Range: 320℉-428℉ / 160℃-220℃
Item Dimension: 26.4 x 11 x 6.7 inch / 67 x 28 x 17 cm
Weight: 8.8 lbs / 4 kg
Voltage: 110V

Package Content:
1 x BBQ Pan Grill Hot Pot
1 x Oil Absorbing Paper
SHIPPING INFORMATION

How do I track my order?
You will receive an order confirmation immediately after your purchase, then we will send you a tracking number for your order. You can also reach out to our customer support at support@jstonewell.com for any questions you may have.

How long does it take for the order to arrive?
Once shipped, your order should arrive within 3 to 8 days. We will send you an email confirmation as soon as your order ships to keep you updated. Feel free to email us to check on your order status at any time. We're happy to help
OUR GUARANTEE

If for any reason you are dissatisfied with your purchase, we'll make it right. We believe that our customers deserve the absolute best value without sacrificing superior quality, and your satisfaction is our #1 priority.

If it doesn't work for you or you just don't like, return it. Within 30 days of receipt, products purchased from JStonewell may be returned for any reason.