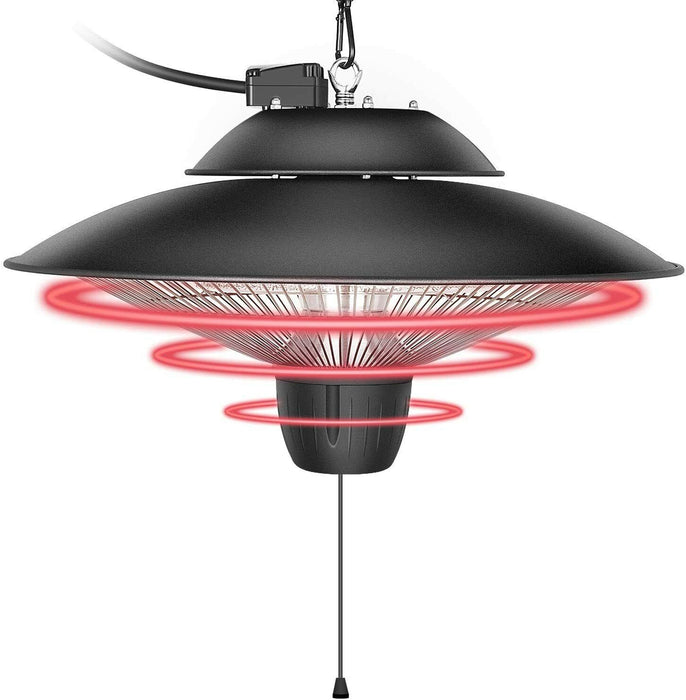 Patio Ceiling Heater
Original price
$155.95
-
Original price
$155.95
Buy now to receive in 3-8 business days
30 Day Money Back Guarantee
Availability:
In Stock! Usually ships within 24 hours.
ORDER TODAY & GET FREE SHIPPING!
100% NO-RISK MONEY-BACK GUARANTEE


Experience Ultimate Comfort with our 360° Heating Electric Heater

Say goodbye to chilly winters and embrace warmth and coziness with our innovative electric heater. Engineered with cutting-edge infrared technology, this versatile heater offers a 360° heating experience, meeting all your temperature requirements. Whether you're indoors or outdoors, this heater is designed to elevate your quality of life by providing exceptional warmth and comfort.

Enjoy Rapid Heating in Just 3 Seconds

No more waiting around for your space to warm up. Our electric heater boasts an impressive 3S fast heating feature, ensuring that you can create a warm and inviting environment in an instant. Say hello to immediate comfort and bid farewell to chilly delays.
Efficient Hook Design for Optimal Heat Distribution

Equipped with a convenient hook design, our heater can be effortlessly suspended from the ceiling, allowing for all-encompassing heat distribution. By quickly and effectively warming up every corner of the room, it ensures a consistently cozy atmosphere. Say goodbye to cold spots and embrace uninterrupted warmth throughout your space.
Unleash the Power of 1500W for Maximum Enjoyment

Winter no longer needs to be synonymous with discomfort. Our ceiling-mounted heater releases an impressive 1500W of power, providing an exceptional level of warmth that will leave you feeling toasty and content. Embrace the season with open arms as our heater envelopes you in a blanket of soothing heat.

Enhanced Safety with Overheat Protection

Your well-being is our utmost priority. That's why our heater features intelligent overheat protection. In the event that the temperature becomes too high, the heater will automatically stop working, ensuring your safety and peace of mind.

Customize Your Experience with Adjustable Modes

We understand that everyone has unique heating preferences. Our electric heater offers two adjustable heating modes, 600W and 1500W, allowing you to tailor the temperature to your specific needs. Additionally, the infrared technology employed by our heater promotes blood circulation and stimulates metabolism, providing a range of health benefits.

Indoor and Outdoor Versatility for Endless Enjoyment

Our heater's built-in carbon fiber heating tube guarantees efficient energy conversion, effectively minimizing energy consumption. Furthermore, its waterproof and ceiling-mounted design enables easy installation in various settings such as balconies, courtyards, garages, patios, and restaurants. Embrace warmth wherever you go and bid farewell to the cold winter blues.

Upgrade your comfort and experience the transformative power of our 360° Heating Electric Heater. Unleash its remarkable heating capabilities, take control of your environment, and indulge in cozy moments that will enhance your quality of life.
SHIPPING INFORMATION

How do I track my order?
You will receive an order confirmation immediately after your purchase, then we will send you a tracking number for your order. You can also reach out to our customer support at support@jstonewell.com for any questions you may have.

How long does it take for the order to arrive?
Once shipped, your order should arrive within 3 to 8 days. We will send you an email confirmation as soon as your order ships to keep you updated. Feel free to email us to check on your order status at any time. We're happy to help
OUR GUARANTEE

If for any reason you are dissatisfied with your purchase, we'll make it right. We believe that our customers deserve the absolute best value without sacrificing superior quality, and your satisfaction is our #1 priority.

If it doesn't work for you or you just don't like, return it. Within 30 days of receipt, products purchased from JStonewell may be returned for any reason.