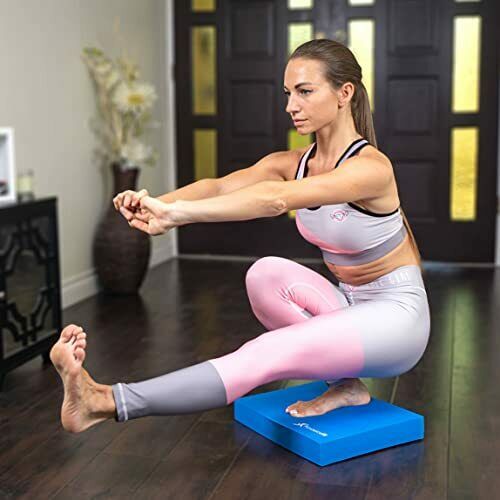 Non-Slip Balance Pad
Original price
$109.00
-
Original price
$109.00
Buy now to receive in 3-8 business days
30 Day Money Back Guarantee
Availability:
In Stock! Usually ships within 24 hours.
ORDER TODAY & GET FREE SHIPPING!
100% NO-RISK MONEY-BACK GUARANTEE


Using a Balance Pad helps you safely build stability and core strength for improved athletic performance, injury prevention, and better balance as you age.
Adding destabilization to your training with the Balance Pad also helps to strengthen foot and ankle muscles, which are often forgotten in typical training programs.
The 2.4-inch thick foam mat is perfect for making exercises more challenging, such as single leg balances, lunges, step-ups, push-ups, planks and standing yoga poses.
You can also sit on it to perform core work, or kneel on it for cushion. Closed-cell, TPE material is easy to clean and won't absorb sweat to keep odors away. It features a lightly textured, slip-resistant surface for safety.
The lightweight design is ideal for travel or taking to the office.

IMPROVE BALANCE & STRENGTH – Foam creates unstable surface for working on balance & core strength, which also strengthens feet/ankles for rehabilitation after injuries

ALL FITNESS LEVELS – A challenge for athletes who want to improve functionality & power; a great tool for beginners & older adults to increase body awareness and enhance stability

NON-TOXIC & NON-SLIP – Environmentally conscious TPE material is sweat-proof and slip-resistant, making it perfect for sweaty workouts and yoga, and is easy to clean afterward

MULTIPLE USES – Versatile pad can be used as a seat cushion, a knee pad for gardening, a foot pad for standing desks, as a meditation pillow, or for making yoga poses more challenging

LARGE SIZE – 15. 5"L x 13"W x 2. 5"H size is convenient for standing on and performing lunges, squats, planks, crunches, etc. ; lightweight 12 oz. is easy to carry
Package Includes:
1 x Non-Slip Balance Pad
SHIPPING INFORMATION

How do I track my order?
You will receive an order confirmation immediately after your purchase, then we will send you a tracking number for your order. You can also reach out to our customer support at support@jstonewell.com for any questions you may have.

How long does it take for the order to arrive?
Once shipped, your order should arrive within 3 to 8 days. We will send you an email confirmation as soon as your order ships to keep you updated. Feel free to email us to check on your order status at any time. We're happy to help
OUR GUARANTEE

If for any reason you are dissatisfied with your purchase, we'll make it right. We believe that our customers deserve the absolute best value without sacrificing superior quality, and your satisfaction is our #1 priority.

If it doesn't work for you or you just don't like, return it. Within 30 days of receipt, products purchased from JStonewell may be returned for any reason.