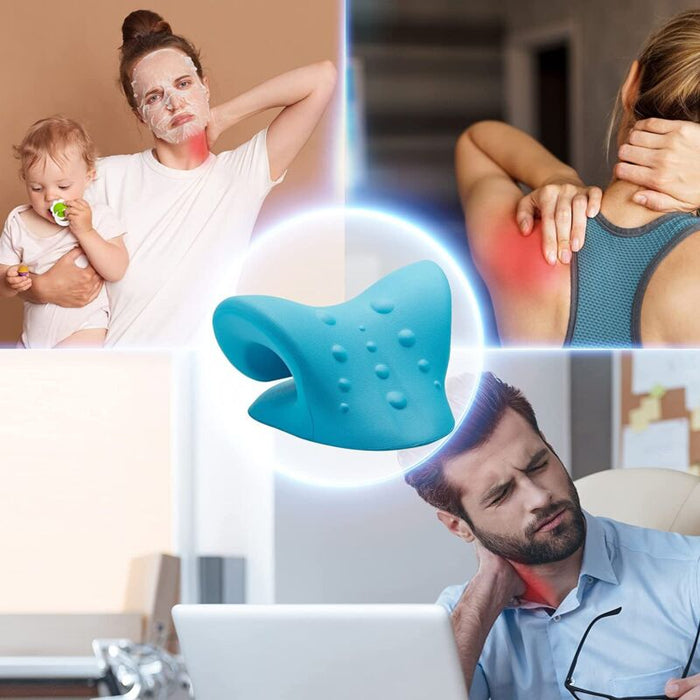 Cervical Neck Pillow Traction Device
Original price
$49.99
-
Original price
$49.99
Buy now to receive in 3-8 business days
30 Day Money Back Guarantee
Availability:
In Stock! Usually ships within 24 hours.
ORDER TODAY & GET FREE SHIPPING!
100% NO-RISK MONEY-BACK GUARANTEE


Nearly 50% of adults experience neck pain on frequent occurrences! Horrible posture, leaning over a computer, a workbench and bad sleeping habits are the most common causes of neck pain.
The Cervical Neck Pillow Traction Device is specifically designed to stretch the cervical spine and naturally guide it to a healthy curvature. This helps eliminate the stress and tension put on the neck; relieving you of your pain.
MASSAGE POINT TECHNOLOGY
Specifically designed to target the muscles on both sides of the neck for maximum pressure relief, relaxation and posture correction!
FeaturesRelieves Pain, Tension, and Stress:
This neck pillow helps your spine flex, stretch, and relax to strengthen tissues and relieve joint pain associated with headaches, soft tissue problems, migraines, and common neck and spine related problems.
Restore Cervical Spine Alignment:
Our acupressure pillow and neck stretcher for pain relief can help gently realign the small bones in the neck and spinal area which is important after long hours sitting at a desk, spent driving, or after lengthy flights.
Ergonomic Acupressure Pillow:
Designed to naturally support your head, neck, and shoulders this cervical traction device made with firm, high-density foam can be used for relaxation, active injury recovery, or relieving stiffness, aches, or pain.
Enhance Natural Circulation:
Stretching your neck and shoulders for 10–15-minute sessions every day can help improve blood flow which can further decompress your spine, alleviate inflammation, and relieve knotted muscles at the base of the skull.
Improve Sleep, Focus, and Productivity:
Our neck stretcher pillow and neck and shoulder relaxer can help you feel more focused at work, more relaxed at the end of the day before bed and rejuvenated and ready to go when waking up in the morning.
Specification
Material: EVA
Color: Blue
Package Size: 20 × 19 × 13 cm
Weight: 230 g
Package Includes:
1× Neck Stretcher Pillow
SHIPPING INFORMATION

How do I track my order?
You will receive an order confirmation immediately after your purchase, then we will send you a tracking number for your order. You can also reach out to our customer support at support@jstonewell.com for any questions you may have.

How long does it take for the order to arrive?
Once shipped, your order should arrive within 3 to 8 days. We will send you an email confirmation as soon as your order ships to keep you updated. Feel free to email us to check on your order status at any time. We're happy to help
OUR GUARANTEE

If for any reason you are dissatisfied with your purchase, we'll make it right. We believe that our customers deserve the absolute best value without sacrificing superior quality, and your satisfaction is our #1 priority.

If it doesn't work for you or you just don't like, return it. Within 30 days of receipt, products purchased from JStonewell may be returned for any reason.