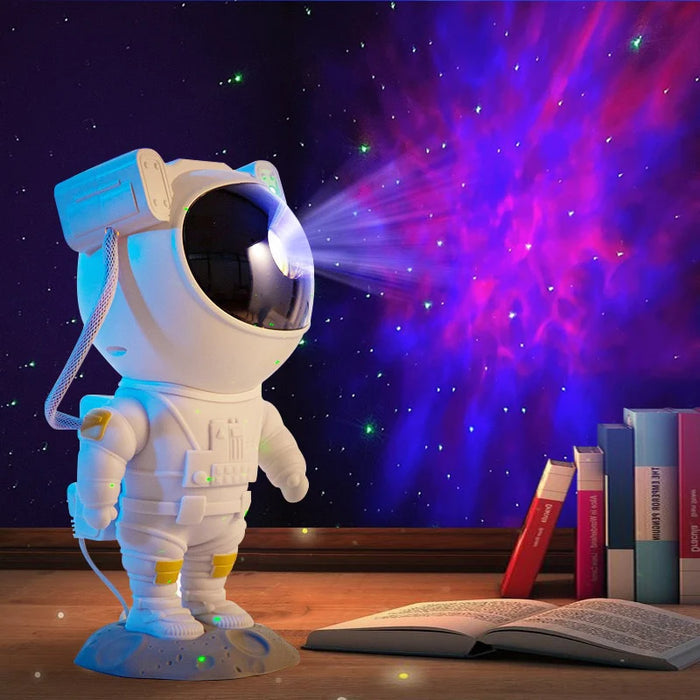 Astronaut Galaxy Star Projector
Original price
$66.95
-
Original price
$66.95
Buy now to receive in 3-8 business days
30 Day Money Back Guarantee
Availability:
In Stock! Usually ships within 24 hours.
ORDER TODAY & GET FREE SHIPPING!
100% NO-RISK MONEY-BACK GUARANTEE


The magic of Astronaut Galaxy Star Projector begins with projecting a starry sky onto your ceiling anytime, anywhere creating an amazing atmosphere that is not only beautiful but also relaxing! Astro Star is great for any space in your home and makes the perfect addition to any room. It is the perfect nightlight for kids!

Features

Remote Control: The star projector is controlled by a 50-foot wireless remote control, which is very convenient for children and adults to set up all functions.

360° Angle Projection: The galaxy projector can be adjusted from 360° different angles thanks to the design of head. You can choose any projection place.

8 Color Modes: This 3-color (red, blue, green) light projector supports solid color, bi-color and tri-color lighting effects, which can be switched manually or automatically, creating up to 8 lighting modes to enrich your visual experience.

5 Speed Adjustable: What is surprising is that the nebula can also set the flow effect, adjust the speed through "S-/S+", they can be static or moving, fast or slow, flashing or steady, creating an incredible atmosphere for any room.

5 Brightness Adjustable: Just use the "B- / B+" of the remote control to choose the brightness you like. The brightness of light could be adjusted: 10%,30%, 50%,70%, 100%.

Timing Function & Adjustable Brightness
There are two timing functions. Press the timing function button once, the timing indicator will light up in blue, set the timing to 45 minutes, and then it will automatically turn off. Press the button twice, the indicator will light up in red, and set the timer for 90 minutes. Long press the button to cancel the timer function.

Multiple Colors & Silent Work
The astronaut projection lamp supports 8 color switching: red, green, blue, red + green, blue + green, red + blue, red + blue + green (the two same color change modes are different). During the work process, the Nebula projection lamp will not make any noise and will not disturb the rest of you and your family.

Detachable Head & Adjustable Angle
It is installed by magnetic suction, and the detachable head allows the projection night light to rotate at will and adjust different angles, which is very convenient.

Novel Lunar Base
The appearance of the astronaut is designed with the base of the moon, which makes the projector more realistic and can be better used as ornaments to decorate bedrooms, living rooms, and offices.

Movable Arm
The arm can rotate and swing up and down at will. You can DIY the motion of the astronaut projection lamp at will. It is interesting and beautiful, and it is very suitable as a gift for friends, family and lovers.

Package Includes

1 x Projection Lamp
1 x Remote Control
1 x USB Cable
1 x Manual
Note: The remote control does not include batteries. The battery model is: AAA
SHIPPING INFORMATION

How do I track my order?
You will receive an order confirmation immediately after your purchase, then we will send you a tracking number for your order. You can also reach out to our customer support at support@jstonewell.com for any questions you may have.

How long does it take for the order to arrive?
Once shipped, your order should arrive within 3 to 8 days. We will send you an email confirmation as soon as your order ships to keep you updated. Feel free to email us to check on your order status at any time. We're happy to help
OUR GUARANTEE

If for any reason you are dissatisfied with your purchase, we'll make it right. We believe that our customers deserve the absolute best value without sacrificing superior quality, and your satisfaction is our #1 priority.

If it doesn't work for you or you just don't like, return it. Within 30 days of receipt, products purchased from JStonewell may be returned for any reason.