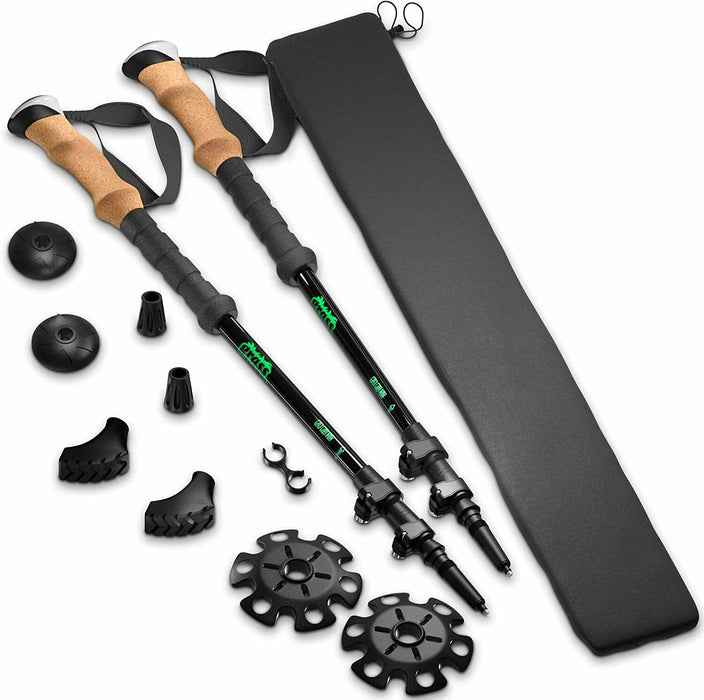 Aluminum Hiking Poles Bundle
Original price
$79.99
-
Original price
$79.99
Buy now to receive in 3-8 business days
30 Day Money Back Guarantee
Availability:
In Stock! Usually ships within 24 hours.
ORDER TODAY & GET FREE SHIPPING!
100% NO-RISK MONEY-BACK GUARANTEE


Looking for quality trekking poles at a great price? If so, these all season quick lock hiking poles are for you.
This pair of adjustable trekking poles are made from high grade aluminum. Plus, each pair comes equipped with tungsten carbide tips for ice or special terrain, rubber caps for general hiking, as well as mud and baskets for use in snow.

The size of the poles can be easily adjusted between 24 and 55 inches. As such, the poles are the perfect fit whether you are tall, short or somewhere in between.

ULTRA LIGHTWEIGHT ALUMINUM POLES - Much lighter than other retractable hiking poles, our nordic walking sticks won't weigh you down. Pack them in the included sleeve & carry along. Perfect pick for camping trips & hiking excursions.

INTERCHANGEABLE POLE TIPS INCLUDED - Rubber tips for safety & stability when walking through slippery conditions. Mud basket attachments prevent buildup when hiking through muddy conditions. Snow baskets prevent snow accumulation. (Snow basket attachments intended for light snowshoeing ONLY. These walking trekking poles are NOT for skiing)

ABSORBENT GRIPS & PADDED WRIST STRAPS - Your hands will never get sore using these hiking poles.  The cushioned cork grips feel great in the hands and with the absorbent material, will keep your hands from sweating. The padded wrist straps help secure the poles in your hands.


LENGTHEN OR SHORTEN POLES WITH EASE - Need a longer or perhaps a shorter length? No problem. Outfitted with flipping lever locks, our unique walking poles for men & women support quick & easy length adjustments. Flip lock, adjust, flip back.



Suitable for women, men & children 7 yrs old & up. Adjust to height. Best for those between 4ft & 6'4".

Complete with interchangeable tips that screw on & off, our nordic hiking poles set satisfies the needs of adventure seekers & those with mobility issues. Stay on the trail or step out to make your own path.

Technical Details:
Shaft Construction: Aluminum 7075
Grip Material: EVA Foam
Adjustable: Yes
Ultra Strong: Yes
Maximum Length (in): 55
Minimum Length (in): 24
Maximum Length (cm): 140
Minimum Length (cm): 61
Weight Per Pair (oz): 13.5
Gender: Unisex
Package Includes:
1 x Pair of Aluminum Hiking Poles
1 x Pair of Mud Basket Attachments
1 x Pair of Snow Basket Attachments
1 x Pair of Rubber Asphalt Tips
1 x Pair of Rubber Bare Tips

SHIPPING INFORMATION

How do I track my order?
You will receive an order confirmation immediately after your purchase, then we will send you a tracking number for your order. You can also reach out to our customer support at support@jstonewell.com for any questions you may have.

How long does it take for the order to arrive?
Once shipped, your order should arrive within 3 to 8 days. We will send you an email confirmation as soon as your order ships to keep you updated. Feel free to email us to check on your order status at any time. We're happy to help
OUR GUARANTEE

If for any reason you are dissatisfied with your purchase, we'll make it right. We believe that our customers deserve the absolute best value without sacrificing superior quality, and your satisfaction is our #1 priority.

If it doesn't work for you or you just don't like, return it. Within 30 days of receipt, products purchased from JStonewell may be returned for any reason.