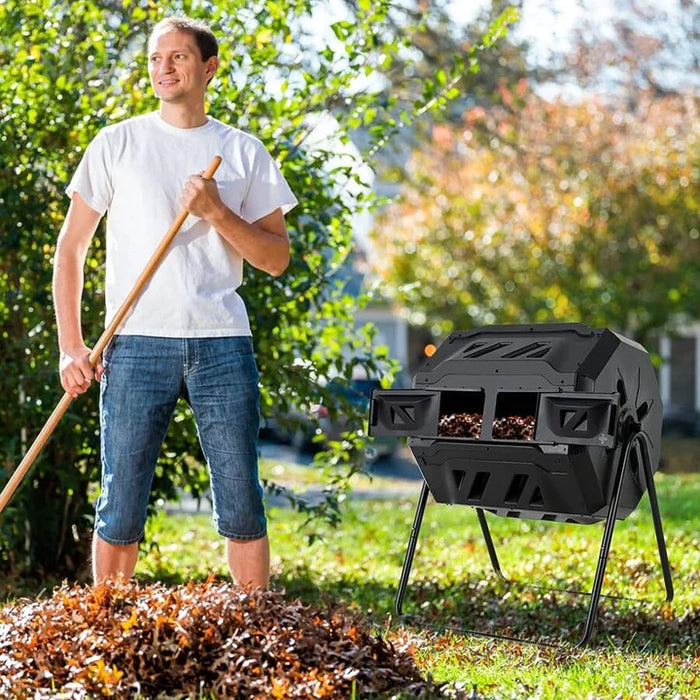 43 Gal compost tumbler
Original price
$128.95
-
Original price
$128.95
Buy now to receive in 3-8 business days
30 Day Money Back Guarantee
Availability:
In Stock! Usually ships within 24 hours.
ORDER TODAY & GET FREE SHIPPING!
100% NO-RISK MONEY-BACK GUARANTEE


Our compost tumbler is a fully sealed container that can be rotated to mix the composting materials. The composter body is constructed from polypropylene. It is contact-safe and will not degrade under direct sunlight. The galvanized steel frame is corrosion-resistant.
Avoid digging and mixing your compost pile by hand. The tumbling design makes mixing easy and efficient. Just close the door and turn it 5-6 times every 2-3 days. In hot sunny conditions and with a proper balance of ingredients the compost can finish in as little as 2 weeks.
Features:FEED YOUR PLANTS AND WATCH THEM GROW –
Compost adds nutrients back into the soil to make your fruits, vegetables, and flowers flourish.
DUAL CHAMBER COMPOST BIN -
Dual chamber composter allow for continuous composting. Fill up one while the other nears the end of the compost process, the rich black stuff ready to use. Once empty, that becomes the one to fill up while the other completes the cycle.
COMPACT YET MIGHTY –
This outdoor compost bin can fit your balcony, porch, patio, or rooftop garden, so you can compost from anywhere and in any season.
HEAVY-DUTY DURABILITY –
Crafted to be long lasting and effortless to use, so you can easily compost for years. The sturdy side-locking mechanism ensures easy loading and unloading, while the durable construction maintains a tight seal to keep out unwanted pests. UV-protected plastic, means it'll never leach harmful toxins.
Specifications:
Color: Black
Item Weight: 22lbs
Capacity: 43 Gallon
Material: PP + Steel
Product Size: 28.5*25*37inch
Item Included:
2* A outside panel
1* B middle panel
7* C side panel
1* Door with D and E togather
2* F parts like V
2* G parts like L + 2* H parts like L
1* I parts
2* J parts
56* K screw + 2 * L long screw
SHIPPING INFORMATION

How do I track my order?
You will receive an order confirmation immediately after your purchase, then we will send you a tracking number for your order. You can also reach out to our customer support at support@jstonewell.com for any questions you may have.

How long does it take for the order to arrive?
Once shipped, your order should arrive within 3 to 8 days. We will send you an email confirmation as soon as your order ships to keep you updated. Feel free to email us to check on your order status at any time. We're happy to help
OUR GUARANTEE

If for any reason you are dissatisfied with your purchase, we'll make it right. We believe that our customers deserve the absolute best value without sacrificing superior quality, and your satisfaction is our #1 priority.

If it doesn't work for you or you just don't like, return it. Within 30 days of receipt, products purchased from JStonewell may be returned for any reason.