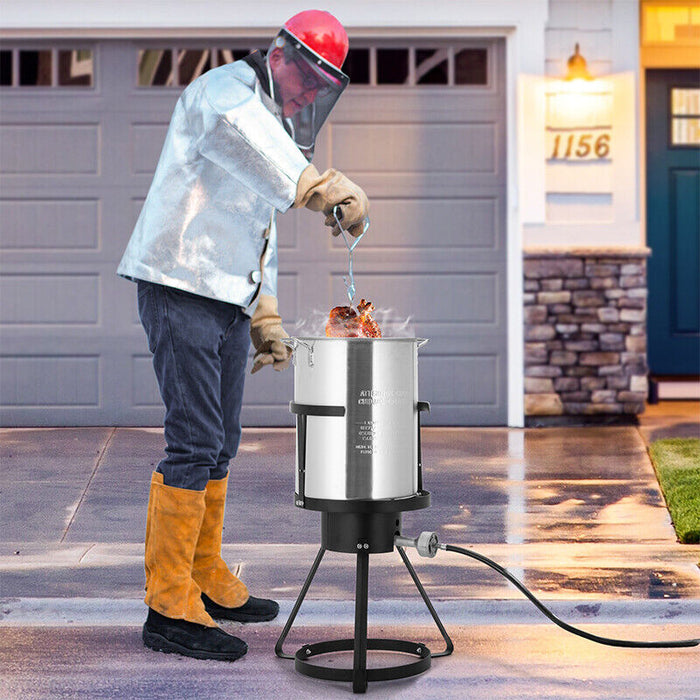 30qt Propane Gas Turkey Deep Fryer
Original price
$183.95
-
Original price
$183.95
Buy now to receive in 3-8 business days
30 Day Money Back Guarantee
Availability:
In Stock! Usually ships within 24 hours.
ORDER TODAY & GET FREE SHIPPING!
100% NO-RISK MONEY-BACK GUARANTEE


Do you want to make a perfect turkey? Do you want to make delicious food at the party? This turkey deep fryer will be a good choice for you. This fried chicken bucket can fry and cook food. This burner and pot work great for seafood, such as lobster, crab, and you can also cook corn and potatoes, etc. Suitable for outdoor dinner, vacation, camping, etc.

VERSATILE APPLICATIONS - Can both fry food and cook food; You can fry turkey, fry fish, cook lobster, crab, and other seafood; It can also be used to cook soup, corn, potatoes, vegetables, low country boil, etc. without the basket; Ideal for outdoor dinners, vacation, camping, etc.

PREMIUM MATERIAL - This fryer and the basket are both made of durable aluminum for optimum heat conduction, which also makes it easy to clean and maintain; The burner features a black painted steel stand; The triangle and round base is stable, sturdy, durable, and has a long service life

GREAT OUTPUT - The powerful burner can output max.54,000 total BTU heat, which heats quickly, outputs steady and consistent gas flow, and can maintain temperature; This cast iron burner is equipped with a 10 PSI pressure regulator so you can adjust the flow by controlling it; This 30 qt pot is suitable for frying about 20 pounds of turkey

SAFE & CONVENIENT - The fryer is equipped with 2 handles on both sides, which makes it easier to move and use; The steamer basket with a handle makes it easy to put in and take out food; The turkey fryer comes with a chrome-plated hanger to prevent you from being burned when taking hot food

PRECISE TEMPERATURE - The 12 inches long probe thermometer measures from 100 to 750 ℉; The thermometer is a must for temperature control and ensures the food is cooked to the appropriate temperature; The injector can inject the prepared sauce into the turkey to intensify flavors, making every bite juicy and tender.

Specifications
Specification: 30 QT
Material: Aluminum + Steel
Net weight: 16.1 lbs
Gross weight: 18.1 lbs
Package Dimensions: 13.6*13.6*16.7 inches
Gas pipe Length: 35.8 inches
Calorific Combustion: 54,000 BTU

Package Includes:
1 x Burner Stand
1 x 30 QT aluminum pot
1 x Inner perforated basket
1 x 10 PSI regulator
1 x Pressure reducing valve
1 x cast iron stove top
1 x Chrome plated hanger
1 x Plastic Injector
1 x Long probe thermometer

SHIPPING INFORMATION

How do I track my order?
You will receive an order confirmation immediately after your purchase, then we will send you a tracking number for your order. You can also reach out to our customer support at support@jstonewell.com for any questions you may have.

How long does it take for the order to arrive?
Once shipped, your order should arrive within 3 to 8 days. We will send you an email confirmation as soon as your order ships to keep you updated. Feel free to email us to check on your order status at any time. We're happy to help
OUR GUARANTEE

If for any reason you are dissatisfied with your purchase, we'll make it right. We believe that our customers deserve the absolute best value without sacrificing superior quality, and your satisfaction is our #1 priority.

If it doesn't work for you or you just don't like, return it. Within 30 days of receipt, products purchased from JStonewell may be returned for any reason.