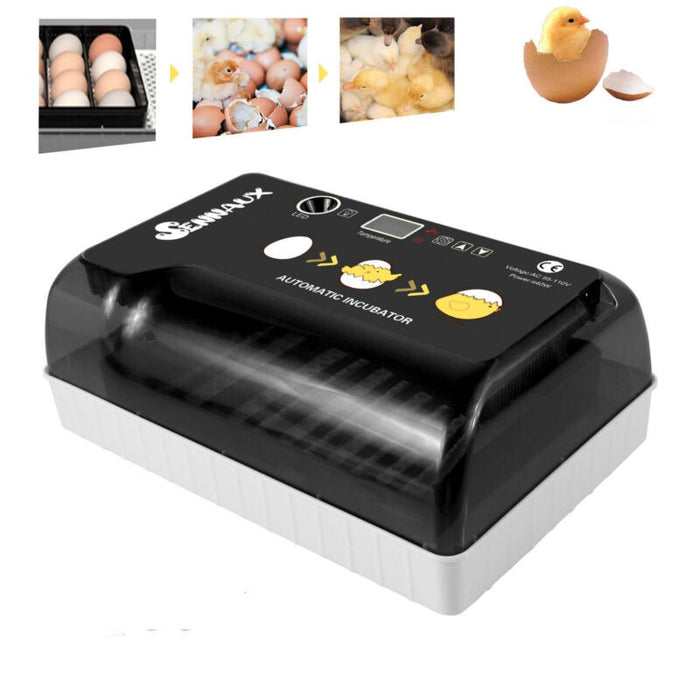 12 Egg Incubator
Original price
$90.95
-
Original price
$90.95
Buy now to receive in 3-8 business days
30 Day Money Back Guarantee
Availability:
In Stock! Usually ships within 24 hours.
ORDER TODAY & GET FREE SHIPPING!
100% NO-RISK MONEY-BACK GUARANTEE


SMART DESIGN - Optimize your hatch rate with this easy to use egg incubator; It features an LCD display, an alarm to detect high or low temperatures and humidity, optional automatic temperature control, and built-in LED egg candler

HIGH-QUALITY MATERIALS - Our egg incubator with automatic egg turning device is made from ABS plastic materials to ensure durability and integrity of the device; It is lightweight and compact for easy storage, the egg hatcher incubator has a clear cover for viewing and monitoring your eggs

DIGITAL TEMPERATURE CONTROL - LED display allows you to set precise temperature. Receive high/low-temperature alerts. The operator panel is on the lid, only need to clear the bottom, which will better protect the control panel.

LARGE CAPACITY - It can breeder a variety of eggs,12 chicken eggs, 9 duck eggs, 4 goose eggs, 4 pigeon eggs, 35 quail eggs, etc.Perfect for farmers, home use, educational activities, laboratory settings, and classrooms.

STABLE INCUBATION CONDITIONS – Our Incubators for hatching eggs provide a consistent and safe environment for the development of the embryos; It perfectly regulates incubation temperature and humidity while the egg incubator turner automatically rotates the eggs every two hours.

Incubation Tips :
1. Test your incubator to make sure it works properly.
2. Connect the egg turner to the controlling plug in the incubation chamber.
3. Fill up one or two water channels according to your local humidity level.
4. Set the eggs with the pointy side down
5. Close the cover and start the incubator.
6. Long press SET button and plug in at the same time when machine without power can restore factory settings
7. Fill the water channel when there is a need.(Normally every 4 days)
8. Remove the egg tray with the turning mechanism after 18 days. Put those eggs on the bottom grid and chicks will come out of their shells.
9. It's important that fill up one or several of the water channels to increase humidity and get ready for hatching.
10. Do not open the lid for a long time when hatching, or it will slow hatching speed.

Specifications
Capacity: 12 eggs
Material: ABS plastic
Voltage: 110V
Frequency: 60Hz
Power: ≤40W
Package Size: 37.5x25.5x17cm
Rough Weight: 1.2kg
Net Weight: 1.55kg

Package Includes:
1 x Egg Incubator
1 x User manual
1 x Power cord
1 x Styrofoam protective case
SHIPPING INFORMATION

How do I track my order?
You will receive an order confirmation immediately after your purchase, then we will send you a tracking number for your order. You can also reach out to our customer support at support@jstonewell.com for any questions you may have.

How long does it take for the order to arrive?
Once shipped, your order should arrive within 3 to 8 days. We will send you an email confirmation as soon as your order ships to keep you updated. Feel free to email us to check on your order status at any time. We're happy to help
OUR GUARANTEE

If for any reason you are dissatisfied with your purchase, we'll make it right. We believe that our customers deserve the absolute best value without sacrificing superior quality, and your satisfaction is our #1 priority.

If it doesn't work for you or you just don't like, return it. Within 30 days of receipt, products purchased from JStonewell may be returned for any reason.